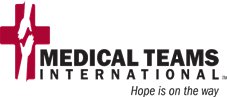 Medical Teams International is a Christian global health organization, demonstrating the love of Christ to people affected by disaster, conflict and poverty. We deliver medical and dental care, humanitarian aid, and holistic development programs to all people in need, regardless of religion, nationality, sex, or race. We respond to disasters around the world—and here at home—by sending teams of volunteer medical professionals and medical supplies to care for the sick and injured. We also mobilize long-term health promotion initiatives, collaborating with established partners within each community to ensure that our programs have a sustainable impact.

Formerly Northwest Medical Teams, Medical Teams International was founded in 1979 when Oregon businessman Ron Post was moved to action by a news report detailing the plight of starving refugees on the Thai-Cambodian border. Post organized 27 medical volunteers within two weeks to bring desperately-needed supplies and medical care to the refugees. Since 1979, we have sent more than 2,200 volunteer teams and shipped more than $1.5 billion in lifesaving medical supplies around the world.
Last year alone we helped more than 2.1 million people in 72 countries.

Medical Teams International is uniquely positioned to leverage every dollar of funding for maximum impact by managing 2,000 volunteers each year to ship and administer millions of dollars worth of donated medical supplies. For every $30 spent on aid shipments last fiscal year, Medical Teams International sent $1,954 in humanitarian aid.


For More Information : http://www.medicalteams.org/sf/Home.aspx
Donate using your Airline Miles partner below :