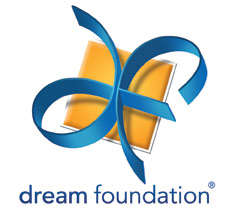 The first and largest national wish-granting organization for adults, Dream Foundation has been touching lives, meeting needs, reuniting families, and providing peace, closure and joy at the end of life's journey. Together with hundreds of volunteers and more than 600 hospices and healthcare organizations nationwide, we fulfill thousands of dreams across the country each year.

For families who have been financially devastated by medical expenses, a dream is the comfort of knowing the heating bill will be paid… For those with young children, it's creating happy memories and having fun. For young adults, a dream can be meeting a personal hero. And for children facing the impending loss of a parent, a dream is receiving support and compassion.

Our dreamers have received a life expectancy of one year or less, and lack the resources to achieve their dreams on their own. While we cannot cure their diseases, we can dramatically impact the quality of their fragile lives with the joy experienced from a dream come true.
For More Information : http://www.dreamfoundation.org/
Donate using your Airline Miles partner below :